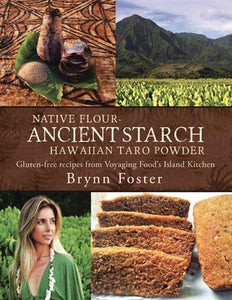 Native Flour Ancient Starch, Cooking with Hawaiian Taro Powder | E-Book
From the storied kingdom days in Hawaii and subsidized by a King supporting his culture, returns a lost treasure uncovered-Taro Powder. Touted as a digestive remedy and a food replacement for babies in the early 1900's, Ancestral Taro Powder is revived today by Voyaging Foods, a certified gluten-free, artisan milling company.
Part historical homage, part cookbook, Voyaging Foods offers a variety of allergy-free meals and treat ideas for the home chef. This cookbook offers an alternative view of taro, the beloved heritage crop, while empowering the home chef to utilize beneficial starches, such as Ancestral Taro Powder, in meals today.